Ensemble Pyramide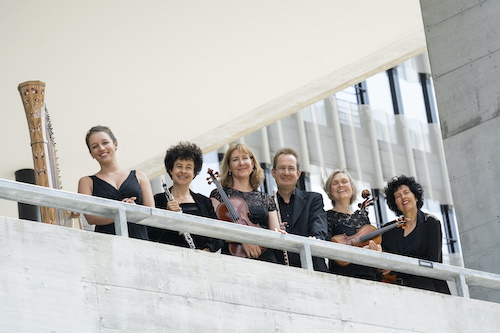 The Neue Zürcher Zeitung writes about the Ensemble Pyramide, founded in Zurich in 1991: "When you hear the members of the ensemble making music together, you are still fascinated by a joy of playing and an enthusiasm that never seem to run out."
The Ensemble Pyramide, consisting of flute, oboe, violin, viola, violoncello and harp, likes to show surprising musical connections in its concert programmes by juxtaposing early and new music. It has developed a special repertoire, which includes French chamber music with harp from the first half of the 20th century in addition to the quartets and quintets of the classical period. Years of playing together in the same formation have resulted in an unmistakable ensemble sound and a special stylistic flexibility in dealing with music from the Baroque to the 21st century. Ensemble Pyramide is also dedicated to the revival of works that have fallen into oblivion and commissions compositions, for example, from Elena Firsova, Gao Ping, Rudolf Kelterborn, Jean Halsdorf and Athanasia Tzanou.
The Berner Zeitung wrote: "In both the sextet and the quartet, the artists captured the audience with an outstanding ensemble performance. Their playing was precisely coordinated and authentically depicted the respective stylistic background."
For its unusual ensemble and repertoire work, Ensemble Pyramide received the City of Zurich's cultural award "Werkjahr für Interpretation" in 2006.
The ensemble has been organising its own concert series in Zurich since 1995 and the summer concerts in Jonental and Ritterhaus Bubikon since 2007. Radio and CD recordings for Ars musici, Intégral productions, Divox, Naxos, Brilliant Classics and Toccata Classics complement a busy concert schedule in Europe.
Members:
Markus Brönnimann (flute)
Ulrike Jacoby (violin)
Anita Jehli
(violoncello)
Muriel Schweizer (viola)
Barbara Tillmann (oboe)
Marie Trottmann (harp)
Last updated: 2020-12-15 13:20:36