Collegium Musicum Basel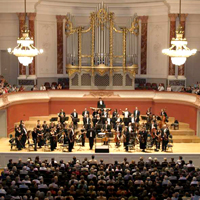 Collegium Musicum Basel
c/o Doris Tschan
Lettenweg 8/1
CH-4123 Allschwil
Schweiz
Tel: +41 (0)61 481 49 75
Fax: +41 (0)61 481 49 75
www.collegiummusicumbasel.ch
The Collegium Musicum Basel is amongst the city's most important cultural institutions. Founded in 1951, it soon developed into one of the most sought-after sounding bodies and became the official orchestra of Swiss Television after 1955. In Basel the orchestra traverses its own concert cycle and six subscription concerts at the city casino's music hall. The orchestra's activities are rounded off by numerous tours in Italy, Germany, Austria, Czech Republic, Slovakia and Israel, and guest performances at such festivals as the 'Mozart-Wochen Interlaken', the 'Festwochen Aranno', the Festival International de Besançon and the 'Bregenzer Festspielen'.
The orchestra can look back on fruitful, long-term collaborations with such soloists as Maria Stader, Lisa Della Casa, Josef Szigeti, Paul Tortelier, Jean-Pierre Rampal, Gerhard Oppitz, Karl Engel, Christian Zacharias, Nelson Goerner, Nikita Magaloff and Martha Argerich.
The founder and unflagging artistic director Albert E. Kaiser influenced the orchestra for decades; a great concern of his was the promotion of young soloists: a concert with the prize-winners of the international music competitions in Geneva and ARD in Munich have been a fixed component of the programme for years.
Simon Gaudenz has directed the skills of the orchestra as its principal conductor since the 2004/05 season.
Membri:
Simon Gaudenz
(direttore)
Ultimo aggiornamento: 2020-10-06 14:35:50